My makeup and skincare routine as a flight attendant
Hello, fellow beauty enthusiasts. My name is Ange I am thirty-two years old, and I have been a flight attendant for nine years. I am a pro makeup artist and love makeup. Time really has flown; I still remember going through those five weeks of cabin crew training like it was yesterday.
The one thing I have learned over the years flying is proper skincare. Flying really does take a toll on your body and the largest organ being your skin. Being hydrated is vital for any traveler, inside and out. I am going to share with you my tips and secrets to a proper skincare routine that I personally enjoy and one that I have worked for me.
My skin type is oily with a few dry areas and pigmentation.
My day starts at 2:30 am with a glass of water and then a splash of cold water to my face.
SKIN PREP: I start with under eye cream from Ole Henriksen's Banana Bright™ Eye Crème. I like this cream as it hydrates the under eyes and has a banana pigment for brightening. Then I apply a face serum. I really enjoy using Flight Mode's Look Alive in the Sky Repair Serum. This serum has my number one favorite ingredient for hydration - Hyaluronic Acid. HA (hyaluronic acid – duh!) really helps keep the skin hydrated in the harshest of climates and dry recycled air. After using this serum my skin feels instantly plump, it is a pretty blue color and smells delicious.
As a base for my makeup, I apply the Flight Mode's Moisture Cloud Face Cream. What I love about this cream is that feels powerful but does not feel heavy. It's packed full of antioxidants and keeps my skin plump and hydrated throughout my whole shift. It doesn't make me oily either. I enjoy this cream so much I use it on my neck, as it gets aggravated from my jump seat harness.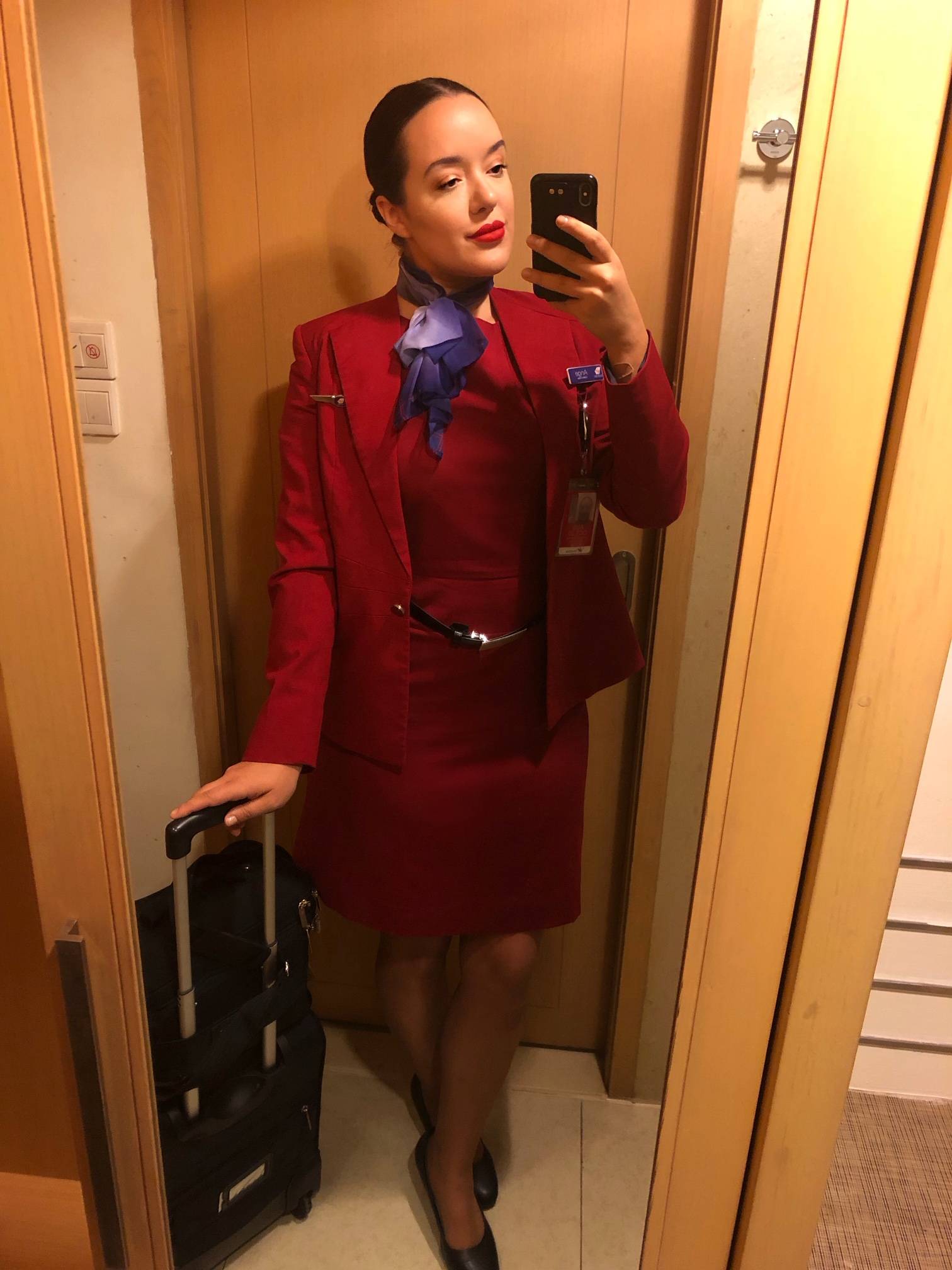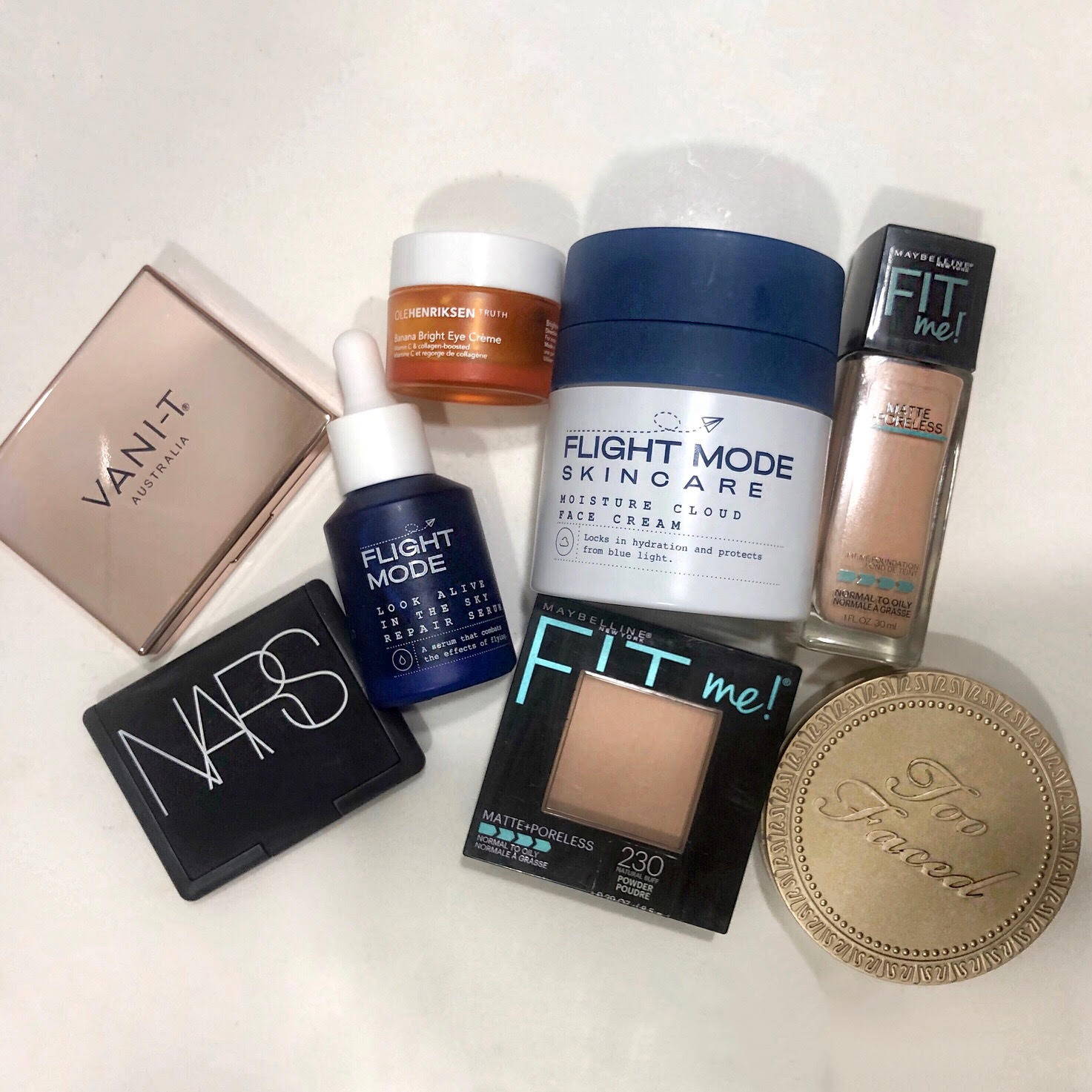 Now it's time to apply my makeup. I use a damp beauty sponge to apply my foundation, I opt for an oil-free foundation and use Maybelline Matte + Poreless Foundation. I then conceal under eyes to hide any fatigue. I love Tarte Shape Tape for full coverage. I set my face with Maybelline Matte + Poreless Powder and do a little contour and usually bronzing with Wet n Wild Beauty for contour and Too Faced Chocolate Soleil Bronzer. I apply my favorite blush from Nars in shade Orgasm. For my eyes, I like to keep it simple. I apply a soft brown powder on my eyelids and some brown eyeliner. To top it off, I use Tarte's Lights, Camera Lashes Mascara. For brows, I use Vani-T Brow Cushion and set them with Anastasia Beverly Hills brow gel; this holds them in place throughout my shift.
I love wearing a signature red lip that goes with my uniform. I use a few go-to reds, Gerard Cosmetics liquid lipstick in the shade Immortal and MAC Ruby Woo with matching lip liner. I then finish my makeup with a setting spray.
During my shift, I like to spritz my face with a hydration mist. I enjoy Flight Mode's Nano Cloud Mister. This mister is great as you can top it up with water and mist, mist, mist - feeling refreshed!
On top of all my skincare, I try and drink a lot of water during my shift.
At night I enjoy relaxing using a Korean sheet mask. On occasion, I use an all-night sleeping mask, such as Summer Friday's Jet Lag and Origins Overnight mask. They work a treat for tired skin.
If you often fly, just remember to keep hydrated and enjoy the experience of flying; I still do. I hope you enjoyed my skincare and makeup tips I look forward to seeing you on your next flight around Australia.
Ange xo
Cabin Crew at Virgin Australia