Comes with Cloud Mister, USB Charger, Water Tank

Includes cute AF Flight Mode Stickers

ReChargable Polymer Battery

30 Day Change Of Mind Returns
Comes with Cloud Mister, USB Charger, Water Tank

Includes cute AF Flight Mode Stickers

ReChargable Polymer Battery

30 Day Change Of Mind Returns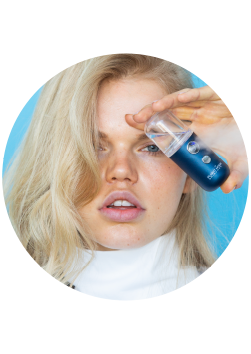 1. CHARGE UP – Plug the USB charging cable into the bottom of the Flight Mode Cloud Mister unto a computer o mobile phone charger to charge the battery. The red light will turn on when charging and will turn off when fully charged.
2. ADD WATER – Remove the Flight Mode Cloud Misters water tank by twisting from the body of the device. For best results, use mineral water, but any available water will do. Tighten the water tank. Now it's ready to use. Do not use essential oils.
3. SWITCH ON – When ready to use, press the mist button to turn on. A gentle mist will start, and the blue light will appear.
4. MIST AWAY – Hold the Cloud Mister approximately 2 inches away from your face and mist as required. For optimal results, concentrate on misting your face, neck, eye, nasal area decollate, and hands.