Australian Native Wildberry Harvest Mountain Pepper - Protection Against Premature Ageing
Cucumber - Soothes and tightens pores.
Vitamin E – Skin soothing.
Hyaluronic Acid – A skin essential which holds up 800 times its own weight in moisture, so your skin is firmed, diminishing fine lines and wrinkles.
Aloe Vera – Improves skin tone and colour by increasing the blood flow to the areas of application and helps to build collagen and elasticity, making the skin more invigorated and strengthened. It also soothes and calms irritated skin.
Ingredients: Aqua, Glycerin, Polysorbate-20, Saccharide Isomerate, Xanthan Gum, Tocopherol (Vitamin E), Aloe Barbadensis (Aloe Vera) Leaf Powder, Helianthus Annuus (Sunflower) Seed Oil, Tasmannia Lanceolata (Mountain Pepper) Fruit/Leaf Extract, Terminalia Ferdinandiana (Kakadu Plum) Fruit Extract, Podocarpus Elatus (Illawarra Plum) Extract, Pleiogynium Timorense (Burdekin Plum) Extract, Santalum Acuminatum (Quandong) Extract, Cucumis Sativus (Cucumber) Fruit Extract, Sodium Gluconate, Polyacrylate Crosspolymer-6, Galactoarabinan, Sodium PCA, Benzyl Alcohol, Dehydroacetic Acid,Potassium Sorbate, Sodium Benzoate, Mica, Titanium Dioxide, CI77510.
Fragrance-free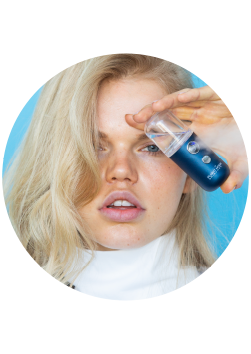 Reasons Why: All skin types can use a boost of hydration, especially during a long-haul flight.This transparent leave-on mask is infusedwith Australian Wildberry harvest, hyaluronic acid, aloe vera and cucumber to hydrate, plump and soothe your skin, so you look your best on touchdown.
Application: After cleansing and when you are ready for rest, apply the transparent mask to your face, neck, and back of your hands. It will absorb while you relax or sleep. No need to rinse off, just massage into your skin.

TIP: Use on your face, neck, and décolletage and if there is any excess use of the back of your hands as it shows the first sign of ageing.